Understanding the essence of owning or preferably producing local fish feed in Nigeria for your catfish farm or any kind of fish farm is one of the most noteworthy aspects of success in the fish farming business.
Here's some expert advice on producing your locally-made high-quality fish feed; this will greatly cut the 70% expenses you are likely to spend to at most 45% in general.
If you want to increase profits in your farming business, it's important to maintain high standards for the quality of fish feed.
Moving further, what about the profitability of fish (catfish) farming? It is important to use high-quality fish (catfish) feed to achieve profitability in catfish farming. Additionally, knowledge is key to success in any business venture.
Also, having practical knowledge in producing high-quality fish feed to maximize profit is critical. Always strive to gain knowledge.
Recommended for you: Fish Feed Quality: A Significant Challenge in Modern Fish Farming.
Advice for Producing High Quality Local Fish Feed in Nigeria
Firstly, to achieve fish feed quality standards, it is crucial to have good raw materials. Many fish farmers struggle with calculating the nutrients in each raw material they want to use.
Ingredients contain nutrients like protein, cp, kcal fibre, phosphorus, etc. and their levels are indicated as a percentage of the item. It goes beyond simply combining raw materials.
To properly group and mix raw materials, it's important to determine the percentage of nutrients in each one. Specifically, knowing the percentage of Crude Protein (CP) in each raw material will enable you to calculate and adjust the CP level to meet your desired percentage.
Use a feed calculator app to achieve the proper red percentage for catfish production. Check out my post for further guidance.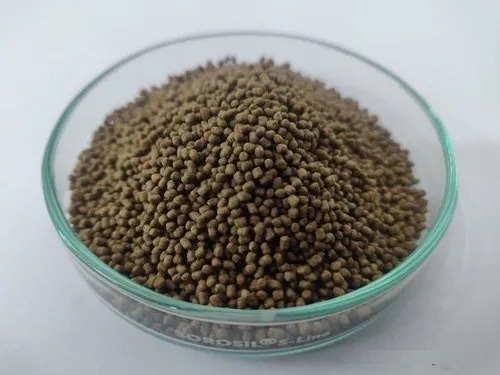 Note this!
Please be careful where you buy your raw materials due to the following reasons:
Adulteration. Using adulterated raw materials can ruin your final product by providing fake nutrients and incorrect percentages.
Carelessness. Often, handlers and sellers of raw ingredients neglect proper storage, leading to potential fungal and bacterial infections and toxicity. There are a lot of factors to consider when going to the milling of feed for both poultry and fish. So, make sure you buy your ingredients from a reliable vendor who does not joke with his reputation.
Bonus Tip!
For the best quality fish feed, making the raw material fake results in a lack of nutrients. Carelessness on the part of the handler is often to blame.
Related: Profitable Catfish Farming in Nigeria: The Importance of Passion.
Types of Pellet Machine
When it comes to extruder machines, capacity is crucial for production. Investing in a foreign machine may be best for those with enough funds.
Capacity is very important. For an extruder with a minimum capacity of 150 kg/hr, it is important to create optimal conditions in the pond for efficient fish growth, as well as providing them with the appropriate nutrition.
General Advice
To meet production goals, it is recommended to use fish meal as the primary source.
Provide the fish with the best feed for optimal growth and economy is fish meal-based.
Fish meal is the best source of crude protein; the fish meal-based feed is best for optimal growth and most economical.
The importance of having a production plan that aligns with the marketing strategy of your area cannot be overemphasised.
Water quality must be known and kept within normal during production to achieve optimal growth.
The existence of Ammonia marks the start of problems which include indigestion, weak growth response, low immunity, vulnerability to infections, parasites, and predators. The Feed Conversion Ratio (FCR) indicates the amount of feed required to produce a specific fish weight. It measures the effectiveness of feed use. Monitoring this parameter is crucial as it decides the feasibility of the feed-based enterprise's production systems.
For the most economical option, use feeds with a proven FCR of no more than 1.2:1.
Maintaining proper management and recordkeeping is essential to assess your progress and profitability.